Its a very exciting time to announce a new juice line that has been developed by Vape Faction's very own Damn_Animal. What started as a passion through curiosity of DIY mixing has launched into a full line of juices called Big Bear. When I heard about this line I of course had to get a set to sample and post notes to share with the Vape Faction Community.
Big Bear started as a hobby to improve many of their favorite flavors they found lacking in the vape community. After almost half a year of mixing and developing they have launched four juices they are proud to call their own. During the creation process the goals where simple; Make great flavors using the best and vape health conscience ingredients available.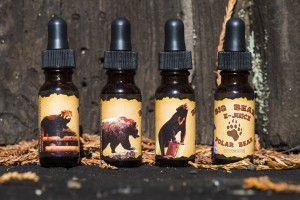 The current offering of Big Bear E-Juice is all 70% VG and 30% PG. Personally this is my favorite ratio as it provides plenty of flavor without too much throat hit while providing some nice clouds. The bottles are a nice brown 15 ml glass with the typical eye dropper cap which makes it nice for refilling your RDA's. The label design is easy to read with a different animal making each bottle making it easy to identify. Also all the important information is clearly printed on the label so you don't need to worry about it fading out over time or use. The samples sent where in 3 mg however they offer several other stronger levels. My normal preference is 6 or 9mg.
Juices Tried:
Grizzly Bear
Red Panda
Polar Bear
Sun Bear
Polar Bear: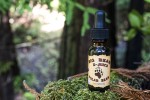 A smooth white tea with a hint of blueberry and mint.
Inhale – A very refreshing white tea taste with a bit of sweetness provided by a hint of blueberries.
Exhale – Â The Exhale takes a surprising turn to provide an almost flavorless exhale. The little bit of flavor there is minty, but not overwhelming.
Overall – A very fresh flavor that I can see myself enjoying on a nice warm day. The flavors are very light, but not in a bad way. Tea has always been my go to beverage on road trips and this one does not disappoint!
All day vape?  – I can see myself enjoying this most of the day however, I would most likely opt for something a bit bolder as I am bringing the night in after dinner.
Final Notes – I am not normally a mint man as it is normally overdone leaving an undesired aftertaste in my mouth. This one however nails it perfectly and I get to enjoy the sweetened taste of white tea I love but am left with a very fresh taste in my mouth. I would have enjoyed this flavor even more at a higher nicotine level than 3 mg as I found myself chain vaping to get the needed buzz. In this case the mint does become a bit too much.
Red Panda: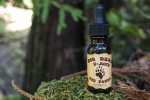 A lychee flavor accented with Guava and Mango
Inhale – Very strong initial hit of lychee followed by a nice sweetness provided by the Guava and Mango.
Exhale – Â The flavor mellows out quite a bit and a nice blend of the Guava and Mango are detected. Both of the flavors seem to be about equal strength.
Overall – Welcome to the beach! A very sweet tropical flavor that is sure to be a treat to anyone looking for a quick break to paradise.
All day vape?  – This is too sweet to be an ADV for me. However, that does not mean that it will not be removed from my shelf of go to flavors.
Final Notes – This will be my new sweet treat to escape from the busy city. The very well blended tropical flavors instantly remind me of better times, aka sitting on a beach somewhere with some fruity adult drink in my hand. The only time a fruity drink is acceptable I may add.
Sun Bear: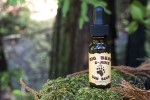 Tropical blend with grapefruit, tangerine, and pineapple with a dollop of whipped cream
Inhale – Completely not what I was expecting from the description. It instantly brought me back to my young childhood enjoying a creamsicle.
Exhale – Â Very smooth exhale where you start to taste some of the pineapple and a hint of citrus with the creaminess disappearing a bit.
Overall – Big Bear E-Juice has tried to improve the age proven creamsicle flavor and succeeded!
All day vape?  – I managed to finish the whole bottle before moving on to the next flavor to try. A rarity when testing flavors. Even though it is a sweeter flavor it is cut with grapefruit making a nice tartness keeping it from being overly sweet.
Final Notes – If you are a creamsicle fan then this is a must try. Don't think about it, just do it and thank me later.
Grizzly
A unique vanilla custard blend
Inhale – A very pleasant custard taste that is not very overpowering or artificial tasting
Exhale – Â The flavor turns very complex and rewarding with a nice burnt creme brulee crust.
Overall – A very well done flavor I can only compare to creme brulee. The burnt/caramelized flavor is spot on and makes for a really enjoyable vape.
All day vape?  – The sweetness was not overpowering and led to a very mellow flavor I thoroughly enjoyed until the bottle was empty.
Final Notes – I know custard flavors are a very popular flavor and Big Bear has nailed it out of the park on this one. I am not the biggest on custards and I thoroughly enjoyed this mix.
Overall a very strong sampling from Big Bear and I can not wait to see what flavors are to come in the future from this company. It is very clear the time and passion put into creating each one of these flavors. It will be exciting to watch this line get on its feet and grow over the next couple of months. I would not hesitate to recommend this line to anyone who wants to try something new.