As vapers, most of us have set foot into the world of rebuilding our atomizers and enjoy the satisfaction we obtain when we first vape from our mod knowing we built those perfect coils. Nothing beats taking pride in your own work. However, those perfect coils may not always be perfect. Slippery fingers from our e-juice, having chunky fingers and other occurrences may interfere with building those coils and will eventually lead to  frustration. QVapes has developed a builders friend, the QVapes Coiler. The intention of the coiler is to facilitate the building process and it serves that primary purpose.
What you get:
· 1 Base: 6061-T6 Aluminum, Anodized Black or Brass (Serialized Limited Edition) (all variations pictured)
· 2 Top Screw: 304 Stainless Steel
· 5 Rods: 304 Stainless Steel – 5 Sizes: 0.8mm, 1.0mm, 1.5mm, 2.0mm, 2.5mm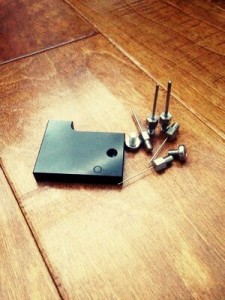 Typically, most of us build our coils utilizing our precision screwdrivers or drill bits and at times it doesn't work out very well. This foundation is the all-in-one to build your coils and set them into your atomizer. Perfect nano or micro coils every time, all the time. It comes pre-drilled with the standard 510 atomizer connector so that one can seat their atomizer while they build their coils and easily transition over to place the coils into the atomizer.
To use…
Screw down the desired rod of choice.
Place your atomizer into the 510 connector.
Screw down the top screw by hand to where you leave a gap sufficient enough to wrap you wire around.
Once you wrapped your wire around the top screw, tighten down the top screw with a regular sized Phillips — my gripe, should have been a finger friendly screw.
Next, wrap your wire and simply start wrapping however many times you please.
Clip off your wire, unscrew the top screw, slide off coil and place them on your atomizer.
Its straightforward and simple.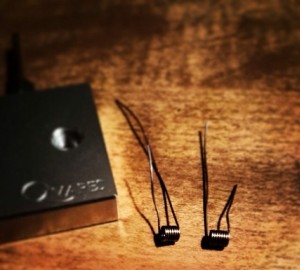 This coiler really is helpful when you want to build those micro or nano coils with almost consistent perfection, or if the situation favors, show off to your vape friends. Provided are different rods for different options depending on what ohms you prefer your builds and that eliminates the need carry excess precision screwdrivers. I will suggest that when and if you build your coils, start wrapping your wire towards the base of the rod as they are very vulnerable to being bent which is another one of my gripes. It can be something to add to your Vape Field Kit though they are a bit heavy. Overall, this may be something that may come in handy for vapers of all levels. It just works!
Have a QVapes Coiler? Share your likes, dislikes and builds with us. Join the discussion here.