Introduction:
This review is on the vastly growing line of Frisco Vape eLiquids. Frisco Vape is a great little shop right in the middle of Downtown San Francisco, check out our Shop Talk article to read more about them.
Shortly after launching their successful B&M they decided to start tinkering with juice brewing inspired by different parts of San Francisco. Their first juice they introduced to the public was "Frisco" – an earl grey flavor. Frisco Vape spent over 5 months perfecting this recipe and launched it at the beginning of the year. Fast forward to today and they now have six different juices in their line up and two more releasing soon.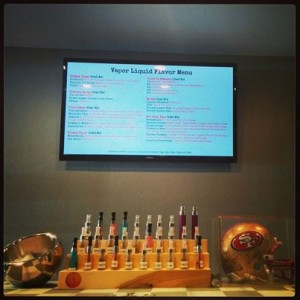 The first thing you notice about this eliquid line is the quality of the bottles. They are all glass with a very nice liquid dripper cap. I simply love this as the bottles can be reused after you are finished. The labeling is simple and bold with the iconic Golden Gate Bridge. The only downside to the label is it does not show the VG/PG percentages. The other downside to the label is the flavor, nicotine mg, and best before dates are hand written, which easily smudge/fade away in my pockets. This isn't as big of a deal if you are only using one or two flavors from them, and always stick with the same nicotine amount.
All the flavors tested below were tested on my Origen v2 using a .6 ohm dual coil vertical build. All the juices also contained 6mg of nicotine.
Now to the Flavors I will be Reviewing:
I want to add an important note before getting to the flavor profiles. At the time of testing these I did not review their flagship flavor, Frisco. I did not have the flavor on hand so it did not seem fair to do a review since I was not tasting it with the others. I have gone through several bottles of this flavor in the past and if you are a tea lover, you can't go wrong in trying this flavor. It was my all day vape for quite a while as it provided that earl grey flavor I love so much with a slight sweetened twist.
Tasting Notes:
Ashbury: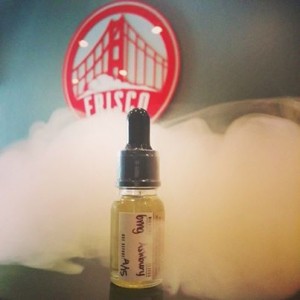 They describe the flavor as Spiced Acai Chai. It is a mixture 30/70 VG dominate blend. I can only assume this was named after the hippy culture in Haight-Ashbury, hippies to love their chai and acai. The only things missing to make the ashbury name proud is some granola and Ben and Jerrys.
Inhale – Tastes like a chai tea that has been lightly sweetened. Definitely a hint of cinnamon, but not so much so that you feel like you took the cinnamon challenge. This is nice as I find most brewers that use cinnamon overdue it.
Exhale – Sweetens out on the exhale you get more of the acai flavor topped with the cinnamon, not as much cinnamon as the inhale. They claim it leaves a taste of big red, which is spot on. That or a very mild red hot.
Overall – Very nice vape being a fan of Chai teas I was curious to give it a try, and the acai is a nice touch in mellowing and adding a bit of sweetness to this flavor.
All day vape?  – During testing, I was able to vape this all day and be perfectly satisfied. It is not overpowering and with the big red/red hot aftertaste it left in my mouth I enjoyed the flavor at times I could not vape.
Cloud production – Being 70% VG this juice produced nice clouds while providing strong flavors. If you are after straight clouds, this would not be my go to juice, specially with so many 100% VG options on the market.
Final Notes – After going through about 7ml on the same wick the cinnamon does start to become a bit more overpowering. So if you do not like a very dominate cinnamon throat hit/flavor you may want to make sure the wick stays fairly fresh.
Soma: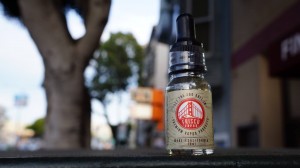 From their site; A spearmint menthol flavor infused with various types of melons and berries mixture is at 55%VG and 45% PG. I am assuming the name SOMA is tied to all the "fresh" new startup companies this neighborhood holds.
Inhale – A very cool, refreshing inhale with a nice sweetness. You pick up more sweet melons than berries. The menthol is very light but noticeable.
Exhale – Very menthol dominated with the berries on the back end. Almost like a mild premium berry flavored cough drop, not the cheap artificial kinds most people use.
Overall – Menthol has never been my cup of tea my brain automatically links the flavor to cold remedies. This is the best of the menthol flavors I have tasted to date. I know others love the menthol berry taste, just ask the jerk in the office that is constantly annoying you with the wrapper sounds.
All day vape? – Definitely not for me, I can see it as a nice refresher when I want to break out of my normal palate prefered of flavors.
Cloud production – Creates a respectable amount of smoke for being an almost 50/50 mixture.
Final Notes – Once I was able to break the immediate brain connection to medicine from being sick this flavor provides an enjoyable, refreshing experience. I just want to iterate, its not that the flavors taste artificial, it is just my reaction to the taste.
Fillmore: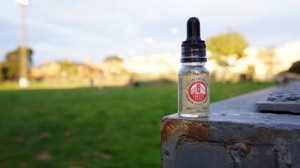 Listed as: "A smooth Peanut Butter and Bean Tobacco flavor. This flavor consists of two different types of tobacco and steeps for over a month." This flavor is a pretty even blend at 40% PG and 60% VG. I am unclear if the name is based off the famous theater or neighborhood and how peanuts tie in, but tobacco seems fitting for both.
Inhale – Peanutty! Think of your favorite creamy peanut butter growing up as a kid. The kind we all loved shoving into our mouths spoon full at a time.
Exhale – The tobacco flavors start to kick in here. Not the cheap discount brands kind of cigarettes, but a hint of an earthy complex blend, with hints of cigar which is followed by the lingering salty, sweet peanuts.
Overall – This is a complex flavor to nail because of the interesting mix of flavors. While sampling with a friend it seems the flavor profile slightly changes to different variances with each intake.
All day vape? - I enjoy this flavor, but with the large amount of flavor it produces. It becomes too much for all day use for me. I will save this one for when I want a few hours of something different or think it will pair with my meal.
Cloud production – This is more about flavor, and flavor it has! If you are looking for strictly clouds you may want to look elsewhere.
Final Notes – Like most darker flavor tobaccos you need to be proactive about making sure your wick is changed every other day or so. Or you will experience tainted flavor from a gunked up wick.
Conclusion:
Frisco Vapes is producing a very solid line of eliquids and after sampling a wider range of their offerings I can see why they are so proud of them. I would not hesitate anyone looking to try a new brewer offering uniquely crafted eliquid to grab 3 bottle for $25. I know I am anxiously waiting to see what flavors they come up with next.