Everyone's progression in vaping seems to mimic the same story. They start with some kind of VV itaste/ego battery then quickly grow into the world of mechanic mods. After tinkering and playing they start to question; Why don't I start building my own? Most fall flat when they realize the effort and craftsmanship that goes into the process.
Today we get the pleasure of sitting down with a man who not only made a mod but revolutionized the industry while doing it, James Livingston of Bay City Vapor. James with Stephanie were able to achieve the ultimate accomplishment for modders right out of the gate by breaking the design mold and theirfirst mechanical achieved jaw dropping low voltage drop numbers. Checkout Jkuro's tests HERE. Today James have several mechanicals on the market that sell faster than he can put releases up and is continuing to grow his line of mods. Vape Faction was extremely excited that James was willing to sit down and talk about his history and what makes him and Bay City Vapor tick.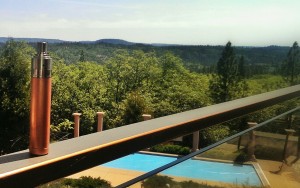 VF: James, thank you for taking the time to sit down to introduce yourself to the Vape Faction Community. To start; How did you first get started vaping?
BCV: Hello, Ryan, Â Thank you for creating this new environment for the community to more openly engage with each other. Â A place where we can become a stronger community, both as Vapers and as individuals.

Stephanie and I began vaping a little over a year ago.  We both enjoyed smoking.  I know that sounds funny at this point, but having a cigarette with the morning coffee was one of the nice pleasures in the day.  That is until we looked into e-cigs.  That changed everything.  Now, no thank you, it tastes terrible and I can't believe we did it for so long.

Anyway, we had been talking about quitting smoking eventually for health reasons.  Longer life and improving our physical well-being.  I was more reluctant, not because of a habit, but because I enjoyed puffing on a ciggy.  Anyway, we both knew a little about e-cigs, but weren't crazy about the look of the cig-a-likes.  On a whim, we wandered into a local gift shop that we knew carried e-cigs.  Long story short, we walked out with a couple Ego-T set ups.

The passion for vaping just exploded from there. Â We are both big flavor junkies and began exploring flavors. Â For us, that is one of the more fun parts of this business. Â Discovering new flavors.
VF: How long was it before you decided it was time to start prototyping your own devices? With so many on the market what was your goals you wanted to achieve in making your own?
BCV: About four months into vaping and purchasing a few devices, (Evic, Itaste VV, Protanks and a Sentinel v1) I began to look at the mechanical devices and noticed that there were some issues with the basic designs. Â The kicker was when my Sentinel 510 threading stripped. Â 7mm threads on the soft aluminum were not good.

I have an extensive manufacturing background and decided to take a look at designing my own devices.  I was not interested in just copying something that someone else was doing.  I need to improve on a concept, otherwise, why bother… It's already being done.   Looking at the market and researching materials, I noticed a gap in the market.  There were very few truly high performing devices out there.  The BBM SP was about the only legit copper mod and the supply was limited.  A Chi You was selling for over the $700 mark and Velas were already impossible to get.

We have three tenants in Bay City Vapor Products, Quality, Performance, & Style.  In our designs, they occur in that order.  I wanted to bring to the market a quality, high performing device that wasn't so limited in production.  Having a device on the market that someone can't get because of scarcity is not a solid long-term business model.  I never understood why a modder would only make 300 devices then stop.  Seems odd to my business mind.  Why not bring a top-performing device to the market that anybody could get if they wanted it.  We are not quite there yet, but that goal is within reach.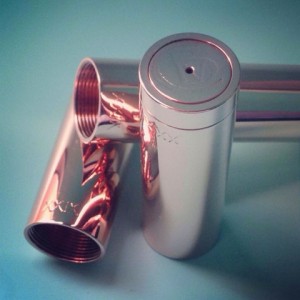 VF: The design you took to market is currently very different from most mods on the market, mainly with the battery size adjustments on the button and the cap at the top. Can you talk about the design decisions in doing this?
BCV: As you know, we began designing the XXIX and SurfRiders in early Summer 2013. Â I was timidly engaging with forums and quietly showing my designs in general discussion threads. Â On one of the forums, an Admin posted a rant about how there was nothing new coming out of modders. Â Everybody was just copying each other. Â I heard the cry and began redesigning the devices. Â Really push the envelope.

The first thing I got rid of was the telescoping positive pin.  When looking at atomizers I noticed that most of them had positive pins that protruded past the 510 threading.  So, I thought, "Why are we using pins in the first place?"  It was more of a "duh" moment than a flash of inspiration.  So, I nixed the top pins and had to come up with an adjustment to allow for varying sized batteries.  The telescoping top pins in the other mods, I believe, are fiddly.  Too small and I didn't like the adjustment.

Hybrids were becoming very popular in the summer of 2013.  Everyone liked the clean look of them.  My issue is that I don't want to be tied to one specific atomizer.  By removing the top pins, I was able to turn the device into a hybrid with any 510 atomizer.  Exactly what I wanted…

Next, I wanted an adjustment that kept the device simple, was easy to get to, and large enough to quickly adjust. Â It had to be at the switch as there were no longer any top pins.

This is also one of the key elements of the very low voltage drop of the mod. Â Not just that there is no material between the battery and Atomizer. Â Also, the adjustment is not part of the conductive path. Â Really kicked up the performance of the devices.
VF: How did you come up with the name Bay City Vapors? Being from San Francisco I always assumed you were in the area, only to find out that you are in Southern California.
BCV: Bay City was the original name for Seal Beach, CA where we are located.  The town was incorporated in 1914 and the name Bay City was already taken.  The town had a marketing effort going on… "Come to Bay City and see the Seals".  They adopted the name Seal Beach.  However, if you walk around old town you will still see remnants of the old Bay City name.  Bay Hardware, the Bay theater, Baytown realty, Bay City Pharmacy, and so on.  We saw a name that endured through adversity and resisted loosing what the town was about.

This is what we are about. Â There is a lot of resistance to accepting our industry within the general public. Â Also, there are a lot of competitors in the market. Â When I see the name Bay City Vapor, it always reminds me to stay strong and persevere. Â We take a lot of hits in this industry, but we are not giving up.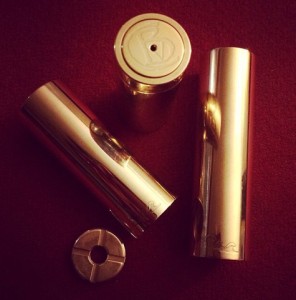 VF: I have always been curious, with all your current mod designs being the same. Why did the brass and SS versions get the name surfrider while the copper variant got the XXIX branding?
BCV: Originally, I was only going to bring a copper mod to the industry.  This was the product and material that the market was lacking.  So, the name XXIX was the first brand.  XXIX is the roman numeral 29, which is the atomic number for copper.  I thought it fitting…

When we were prototyping the XXIX there was a lot of growth in the understanding of voltage drop.  I wanted some empirical data that showed how the different materials performed, so I made prototypes in Stainless Steel, Brass and Aluminum as well as copper.  Well the SS and Brass turned out pretty nice, so I decided to add them to the product line.  I couldn't brand them as the XXIX as that was so tied to copper, so we gave them a different brand as the SurfRider.  We have a lot of surfers in the area and it felt like the name fit with the environment in the town where we are located.
VF: Your mods have always been sold through your site, however you recently decided to stop doing this and distributing through vendors. How do you think this will be better for Bay City Vapors in the long run?
BCV: I have always wanted to have our products available for anyone that wanted them. Â Â Changing to a distribution model for sales makes sense to get the product into the general market.

I guess this is a good place to know a little more about me.  First, know that I am not a machinist.  I leave that to the experts.  I gained extensive manufacturing experience when I worked in the Motion Picture Industry.  This experience is not just in the mechanics of manufacturing.  I was also involved in the design, prototyping, warehousing, and international distribution of a product called Steadicam.  I began working at this company in the late '80s as an Electronic Tech, moved into Sales and Customer Service, Project Management and 10 years latter I accepted the position as Vice President of Operations.  During this time I also earned my undergrad degree in Business as well as an Executive MBA from Pepperdine University.

I explain this so everyone understands that I bring a holistic approach to the industry via Bay City Vapor. Â Decisions are made mostly for how I can best serve you vapers, however, it is always tempered with my business sense.
VF: When you are not gumming up your hands in the shop polishing every mod to perfection. What are other things you enjoy doing in your spare time?
BCV: During our introductory phase, Stephanie and I were definitely and literally "Getting our hands dirty".  We learned a lot in this time frame.  We have balanced our lives with a great group of friends and we are very much into fitness.  Stephanie is a long distance runner and has gotten me into it as well.  She has just completed her 17th marathon and I have done a couple.  These are not for me, so I'm going to stick with half-marathons.  Seems like we're always training for something.

More balance is in our near future and we will get back to our "normal" life.  The vaping community and Bay City Vapor takes a lot of our attention and we absolutely enjoy doing what we are doing.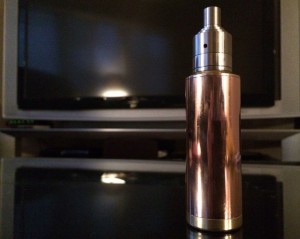 VF: Thank you so much again for taking the time to sit down and talk with us, before I let you go one last question I am sure everyone, like myself is curious about. Is there anything new in the works at the BCV headquarters that can be talked about?
BCV: There are some things in the works.  We need to finish up our Makume Gane mod, we have had requests for a 14XXX sized one as well.  There is also some other things I can't talk about right now, but if we can pull it off, it will be a game changer.
If you are an avid collector, or someone looking to add an extremely high quality boutique mod to your collection. There is no doubt the mod should be one from Bay City Vapor. By buying a Bay City Vapor mod not only do you get performance that is nearly impossible to beat in a mechanical. You are also supporting a small shop with innovation during a hobby at its infancy. Lastly you know you will be getting amazing customer service behind a guy that backs his product to the fullest.
To find out more about some of the exciting upcoming developments in the Bay City Vapor line or to interact with James directly feel free to check out the Vape Faction forums, where you can keep up to date with his developments HERE.