Every person has nostalgia for the first brands they started using when vaping, for me my first introduction to eliquids was from Velvet Cloud Vapor. Living in downtown San Francisco and researching about vaping, I came across this brewer and instantly fell in love with the character and care they put into their product. In a market getting over run by companies trying to do over designed labels with edgy names, Velvet Cloud is focused on making sure you get the highest quality all organic and natural vaping experience, because of this all their juices are 100% USP Kosher VG, water, and natural flavoring.
Velvet Cloud started as a small hobby between friends to ensure that they were vaping the highest quality natural ingredients, after all they are based in San Francisco, it is kind of people's way around here. What started as a boutique artisan hobby grew like wild fire and is now a well respected name in the industry, just read the amount of positive reviews on any one of their flavors.
The bottles 15ml Velvet Cloud provides are simple plastic, with a child proof locking cap. The locking mechanism is extremely easy to open, but still provides a peace of mind if you have little ones running around, a very responsible feature for them to have. The labels are clearly marked with the nicotine mg and ingredients. My favorite feature of the VCV label is the little hand drawn designs each flavor has, I enjoy when new seasonal blends come out just so I can see them on their site. If I had one gripe about the bottles it has to be the top drip hole is too big by so it is easy to over juice a dripper well if you aren't careful.

These are the flavors that Velvet Cloud graciously sent for sampling along with a cute handdrawn mewlew and note:
Burley Beard
Blue Beard
Night Shift
Summer Sweet
Mewlew's Magic
Straw Garb
All these flavors were tested at 6mg nicotine with my Origen v2 at .6 ohm dual coil.
To help from repetition since all these are 100% VG. The cloud production for all of these are amazing.
Burley Beard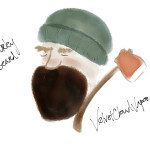 A straight tobacco flavor with no specialty flavoring attached. The kind of flavor your Granddad use to smoke.
Inhale – What you expect from a tobacco flavor hints of earthy undertones, I got a bit of nice grassiness to it. For you tobacco aficionados it reminds me of a nice virgina and burly mix you find in many of the popular US cigarette brands. Also has a bit of a throat tickle tobacco smokers tend to like.
Exhale – Â The exhale grows quite mellow compared to the inhale, it is very similar to the inhale flavors. There is almost no lingering after taste to this flavor.
Overall – A really well done tobacco flavoring with no gimmicks attached. It provides the right amount of throat hit people who smoked tobacco will enjoy. If you are just getting into vaping or miss the tobacco taste, I would strongly suggest this flavor.
All day vape?  – It has been in my rotation as an all day vape flavor in the past. The flavors are not over done and provides a very enjoyable all day smoke that does not get old after a few hours.
Final Notes – The throat hit may be too much for some especially once you start getting higher then 6mg. To me it is spot on, even though I dont sport a burly beard.
Blue Beard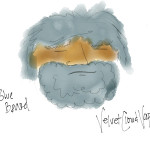 A Virginia and honey tobacco infused with blueberry and blackberry essence.
Inhale – At first you get a very quick taste of tobacco then it is followed by an almost fragrance/perfume taste. Not to the extreme of running down the nordstroms cosmetic aisle with your mouth open, but it is noticeable.
Exhale – Â Little to no taste of tobacco and mostly a lingering after taste of blueberries.
Overall – By no means a horrible flavor, but with so many great options available from VCV that my palette agrees with more this would not be my first goto flavor. If you love fruity flavored tobacco this one may be to your liking as it has some sweetness, but is not overly done.
Final Notes – The throat hit on this was much less than the burely beard, which I feel like would be welcome by those who like fruity tobacco flavors.
Night Shift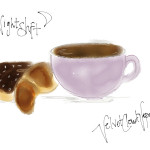 Glazed donuts with a light creamy coffee flavor.
Inhale – As Homer would say, "MMMMMMM donuts". I get more of a sugar donut, then a glazed but it is a nice, sweet treat.
Exhale – Â I get hints of coffee, a carmely/creamy latte you might indulge in made by a barista at an upscale coffee joint.
Overall – This is a very sweet treat I really enjoyed. I can see why it is one of their more popular flavors in their line.
All day vape?  – The sweetness of this may get overpowering after a few hours, but then again I rarely vape the same flavor all day. This is going to be added to my rotation of vapes I enjoy in the morning on my way into work into lunch.
Final Notes – The smell on this one is quite strong if you leave the cap off. Normally I do not get many people complaining about my vape products at work, but there were comments about it being over powering.
Summer Sweet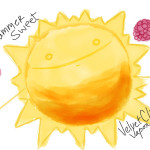 An interesting blend of Lemon and Raspberry with a slight hint of summer notes (i.e. Sweet Tea, Watermelon, etc) to round it out.
Inhale – I pick up a dominant mellon type flavor. Not watermellon, more of a honeydew or cantaloupe taste with a slight hint of raspberry.
Exhale – Â A sweet earthy taste like a very muted iced tea with a hint of sweetness.
Overall – Even though I don't really get lemon and raspberry as the main tastes it is still a very nice, not over powering vape.
All day vape?  – I would have no problems vaping this flavor all day. The flavors are not overpowering and has a nice, melon taste that wouldn't get tiring to me.
Final Notes –  As the name suggests this is a nice mellow flavor that would be great to vape by a pool on a hot summer day.
Mewlew's Magic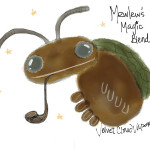 An amazing and enigmatic blend of chocolates, cream, butterscotch, doughnuts, and fudge.
Inhale – Welcome to amazing chocolate town! Perfectly done, not too powerful with a complex undertone of more sweet flavors mixed in. It reminds me of the chocolate bread I crave from my local bakery, Pinkies.
Exhale – Â I Start to pick up some of the other flavors. A bit of cream, doughnuts and a hint of butterscotch.
Overall – A well balanced, complex, but not overly done desert flavor. Every time I take a vape I find my smile growing a bit more.
All day vape?  – Let it go in the record books, I have found a dessert flavor I wouldn't mind tasting all day. However, I think I will save it for special occasions and keep it as a nice treat. I would hate to grow tired of this flavor!
Final Notes – If you are even the slightest fan of chocolate and might be hesitant to try this flavor due to having bad chocolate flavors in the past, like I have . This flavor proves that an amazing chocolaty treat can be achieved.
Straw Garb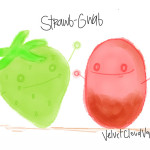 A rich and unique blend of Strawberry and Guava.
Inhale – Guava with a nice hint of strawberry
Exhale – Â The guava takes a back seat and you are left with strawberries and a nice creaminess. A great aftertaste that does not linger around or is too powerful.
Overall – Velvet Cloud was spot on when they compared this to a smoothie that is not too sweet.
All day vape?  – Ladies and gentlemen, I have found my new flavor that is going to be a staple in my rotation. Instead of generically saying I could vape this all day, I actually am going to be.
Final Notes –  A perfect flavor now that the weather is getting nicer to help against craving those mid day smoothie treats.
Conclusion:
Whew, that was quite the sampling and thank you for staying along for the ride! Even though I only scratched the surface of Velvet Clouds Vapor's catalogue. I can confidently say if you are interested in any of their flavors you will not be disappointed by giving them a try plus you get the advantage of supporting stellar little company focusing on quality ingredients.
Another great thing about VCV is if you fall in love with any of their flavors you can order them in 120ml variety at a great discount. Speaking of discounts, they regularly have 25% discounts and always provide shipping on orders over $40. To keep updated on these discounts be sure to keep track of the Vape Faction deals page or sign up for Velvet Clouds mailing list.