I had the pleasure of getting the full line up of Coil Oil e-Juices to sample.
They have 4 juices, or Coil Oil as they like to call it. Their line up currently consists of the following:
Nutella – Nutella (no other way to describe it)
Kryptic – Watermelon, Strawberry and Kiwi
Enigma – Ripe Blueberries and Sweet Strawberries
Rosie Cheeks – Tart & Sweet Cherry mix
They come in plastic clear bottles with a white cap and a really cool logo (not sure what the creature is) which really caught my eye. The lettering along with the logo is big, bold and easily legible which to me stands out because I have seen other manufacturers use tiny fonts that really take effort to read.
The ingredient blend is a 70/30, VG being the higher ratio. Label lists they use USP/Food Grade Kosher VG & PG.
They do have food coloring in them to give them their color in respect to the flavor.
Coil Oil is based out here Southern California, specifically Granada Hills, CA.
Note* of all these had a nicotine level of 4 which all had a subtle to almost no hit of nicotine. I sampled them on a .46 ohm build using my Stillare with the slots open halfway, a fresh cotton which was replaced for each flavor.
I reviewed them respectively in the order of which I ranked them.
Nutella: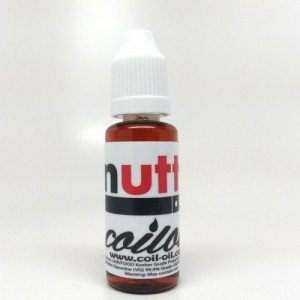 Inhale- tastes chocolaty, not like artificial chocolate more like a milk chocolate. Not over powering compared to other chocolate flavors I have tried and its really smooth. Think of Hershey or Nesquik chocolate milk.
Exhale – you really get the Nutella taste.. Perfect blend of hazelnut and the milk chocolate I mentioned in the inhale.
Overall- Smoothly balanced and natural tasting Nutella.
All day vape? Probably not as I tend to get tired of the chocolate taste. I do drink a lot of chocolate milk, but I see this more of a dessert type of vape  paired with an actual dessert. I enjoyed a nice glass of milk while sampling this and it paired really well. This is definitely better on a dripper atomizer.
Cloud production- excellent, dense clouds.
Inhale- watermelon and strawberry all the way with watermelon being the leading flavor followed by the strawberry. It reminds me of a Watermelon Jolly Rancher.
Exhale- excellent exhale where all 3 flavors come together to make an extremely well balanced fruit "bang" mixture. Very refreshing.
Overall- awesome flavor, not artificial whatsoever. Definitely the best out of the 3 fruity flavors.
All day vape? Probably not for me as I am not a fan of fruity all day vapes. I Went ahead and gave it it a try for an day in my Taifun, definitely enjoyed it a lot more than I thought I would have.
Cloud production- once again, excellent, dense clouds.
Inhale- sweet blueberries with no undertones of the mentioned strawberry but I happened to get a taste of raspberry for some reason. This one tended to taste just a little bit artificial but nothing extreme worth making a face over. Think Blue Raspberry Sour Straws without the the sourness.
Exhale- surprisingly enough, blueberries with a tone of the strawberry flavor originally mentioned. Smooth and well balanced. The sweetness and aforementioned artificial flavor gone. Delicious.
Overall- starts off sweet and really mellows out on the blueberry flavor and gives you that taste of strawberry that really balances it all out.
All day vape? Yes. This juice really mellows out and does not get overbearingly sweet.
Cloud production- excellent, and yet again, dense clouds.
Inhale- cherries all over the place.. kind of sweet I would say, but it doesn't seem to taste artificial or like others that taste like cherry Robitussin.
Exhale- more cherries but it seems to tone down a bit and gives it a less sweeter flavor with a tad bit tarty cherry taste that mellows out. Think Cherry Coke.
Overall- semi-sweet but well balanced flavor of cherries. There seems to be an undertone to this juice that I can't seem to pin point.
All day vape? Again, not for me as I refrain from fruity flavors for my daily vape but for those fruity go-getters, I would say yes.
Cloud production- excellent, and again, dense clouds.
Conclusion:
Overall, these juices are great and if you can sample some, definitely give it a go.
You can find out which shops carry their juice here.