When I first started getting into the world of Mechanical Mods. I followed the classic route of pinging peers in different corners on the web with the question: "If I were to get one Mechanical Mod what should I get?" Silly me at the time thinking I would only need ONE mod.
When the answers started pouring in, there was one mod that made almost every person's list, the GP Paps X 1.5. With my decision made I decided I was going to order one ASAP and have it on my doorstep that week. How naive I was! After exhausting every resource and weeks of waiting Vapour Day was finally here. It was my chance to finally own this mechanical wonder.
With my order secured and faster than expected shipping across the pond, I finally had lucky SN#1060 in my grimy hands.
Aesthetics:
Pictures of the Paps X simply do not do it justice, the mod is a piece of art! The tubes have a very nice subtle blasted finish that will not show fingerprints with polished engravings. The top cap and bottom button feature a nice polished finish that provide the final touches.
The mod is sized at 23mm which is a deal breaker to those people who love the flush look and only have 22mm atomizers. My big, clumsy hands love the extra bulk and I happen to have a few 23mm atomizers. I also think some of my 22mm atomizers compliment the mod perfectly.
The stock top ring comes with an adjustable airflow control ring which leaves a beveled gap between either the top of the tube or the bottom of the atomizer depending on you setting. This seems to polarize opinions about the look. Some love it as it offsets the beveled gap on the bottom button, while others are not a fan of the gap. Luckily GP thought about this and provide an X-Ring you can purchase that you can easily replace and have no gaps at all.
The Paps X provides extensions for different battery configurations instead of solid tubes. However, GP put such precision in the engineering of this mod the space is barely noticeable by the human eye and completely unnoticed by touch.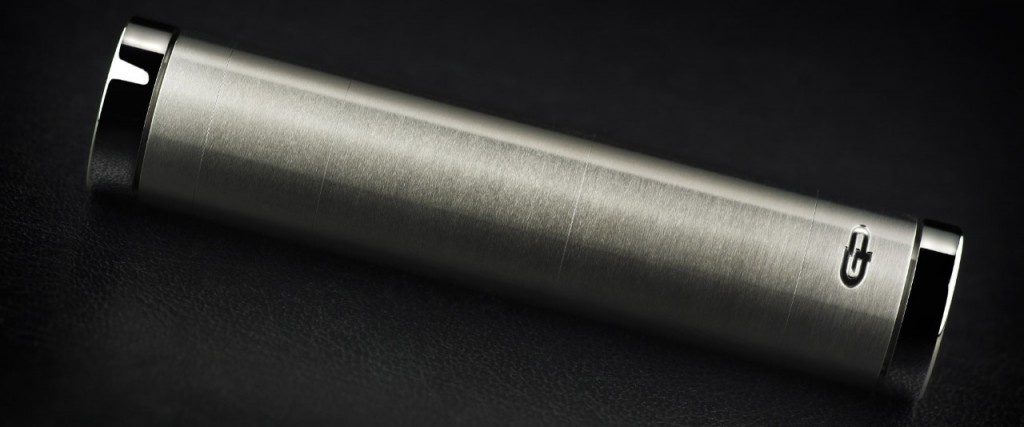 Quality:
The quality of this mod is second to none. The machining is instantly noticed the moment you start assembling it. The threads are made of butter!
The top pin on this mod is truly amazing, you don't need to adjust anything. It does not matter if you want to switch from a 18650 battery that has a button top to a flat top, no adjustments are needed and the atomizer always sits perfectly flush with full connectivity.
Keeping to GP's high quality standards the locking button is extremely smooth, and I have not once had it get stuck on me or cause it to loosen any of the extension tubes, a first in my experiences with several different high-end locking mods.
Performance:
Voltage drop tests on this mod in 18650 mode are rated it at an extremely impressive .005 volts. Team GP focused on making the mod built for low maintenance so they used brass for the top and bottom contacts but, Â if you don't mind the upkeep and want a lower voltage drop rating silver pins are available for purchase. Making it the ideal mod to enter your local cloud chasing contest with.
The button is spring controlled, and GP knows that every user preferences are different. With this in mind they have graciously included extra spring tensions so you can have the button pull to you liking. I have never had this mod mis-fire or false fire on me.
Customer Service:
The moment you buy your first GP mod you are part of the family, and GP loves it family. They are backed by three extremely reputable dealers Vapour Art, Domo Vapor Co, and Vapist.net. These two retailers are extremely responsive and held in the utmost respect within the vaping community. Plus an added bonus if you order through Domo you receive some delicious candy as a bonus. Though be warned you will find yourself going back to Domo just to order candy.
Pricing:
The mod without the extras is priced at $240 and for that price I would consider it an extremely great deal considering the quality you are getting, and it can do 350,500 or 650 battery configurations. It is only offered through three dealers Vapour Art, Domo Vape Co, and Vapist.net. Your best bet for finding this mod in stock is to watch Vapour Art or the Vape Faction news feed for when the next Vapour Day is. Be sure to make sure you are available soon as it starts as they go extremely fast.
Conclusion:
My peers were spot on with this recommendation and if I did have to go down to owning one mechanical mod this would be the front runner. It will always have a spot in my weekly rotation of setups I am using.
My favorite pairings:
Origen v2 RDA Atomizer
TaiFun GT RBA