When Vape Faction's DIY Juice expert JKarlson mentioned he was transitioning his hobby into a business, I knew Vape Faction had to get our hands on his line of eliquids to give them a try. Even though Executive Vapors is a new brand to the market and not many options to get the juices yet, JKarlson has been experimenting with flavors longer than most of us have been vaping. It is through these experiments that he was able to ensure the highest quality ingredients and bring his best juice concoctions to market.
The juice labeling is not overdone, just simple silhouettes of a business man, matching the branding of Executive Vapor. The label also clearly marks its ingredients and on a separate sticker is the nicotine mg. The sticker shows no sign of falling off  with good use, this was my biggest concern. The Bottle is glass and comes with an eyedropper lid, which is my favorite combo for a bottle, specially since I drip 90% of the time. My only issue with the bottle is it seems like the lid does not always thread on straight, small gripe.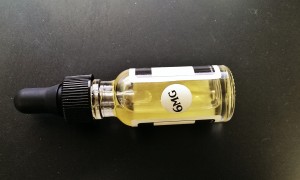 All 4 flavors Executive Vapors sent are at 6mg nick strength
Juices Tried:
CEO
Rockstar   
Swagger
Corruption
CEO: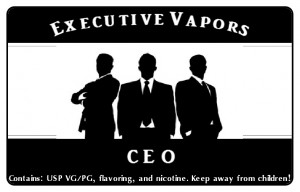 Thin Mints – 50 % VG / 50% PG
Inhale – A very mint forward taste with a hint of sweetness to mellow out the mint.
Exhale – Â The mint mellows out and you get the taste of a bit more of the chocolate, but still not over powering on the palate. Leaving a nice slight mint aftertaste, like you just got done chewing a peppermint gum.
Overall – I would not compare it directly to thin mints, however the similarity is very close. Close enough to make the connection.
All day vape?  – I had no problem tasting this all day. In fact instead of doing my normal two flavors a day testing, I skipped testing my second flavor to continue enjoying this.
Final Notes – After trying this I am glad this does not taste exactly like thin mints. I think the flavor would become tiring where this does not. It provides a fresh all day flavorful vape.
Rockstar: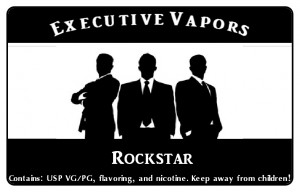 Bavarian Custard – 70% VG / 30% PG
Inhale – A very dominant custard front with hints of vanilla
Exhale – Â Smooths out to be a very creamy taste that has the slightest hint of sweetness to it, almost strawberry like.
Overall – A very solid custard that anyone could appreciate. If you are a custard fan it is worth adding to your list to try.
All day vape?  – I normally can't do custards all day, but had no issue with this one. The sweetness at the end left a nice subtle lingering taste.
Final Notes – I can't say I am by any means a custard flavor afficiando.  I have tried several of the usual favorite suspects and say this is on par if not better than the brands everyone seems to love.
Swagger: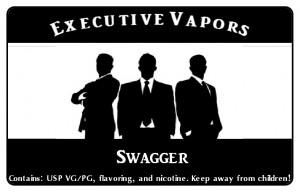 Strawberry Banana Smoothie – 70% VG / 30% PG
Inhale – Not very dominate taste of strawberry or banana, but you can taste both of them.
Exhale – Â Hello Banana! Not the kind of banana you would expect either considering the description. This is VERY similar to one of my favorite candy, Â Runts.
Overall – I would conclude that it tastes more like candy then smoothie. It tastes like you have just ate a handful of strawberry and banana runts.
All day vape?  – A definite all day vape. It has a nice candy flavor to me that is not too overpowering, but provides the right amount of sweetness.
Final Notes – I am glad this tasted more candy then smoothie. The market already has enough smoothie types flavors, so this one stands out to me.
Corruption: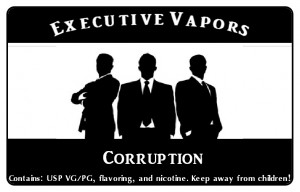 Sunny Delight – 50 % VG / 50% PG
Inhale – Tangy Orange, this is a Sunny Delight inspired flavor after all! The taste on this is spot on, but the flavor strength is not as strong as chugging a bottle after a hot day of playing little league baseball.
Exhale – Â More of the same this one isn't overly complex. This mixture does provide a slight nose tickle on exhale which I find nice.
Overall – Spot on to the tangy drink we all loved as kids. The flavor is not as strong, which will be subjective to some on if that is good or bad.
All day vape?  – Executive Vapors has done it, they have managed to make a line of juices that everyone I find enjoying throughout the day!
Final Notes –  If you loved this orange flavored drink as a kid, then you will be more then satisfied if you choose to pick up this flavor it is a great reproduction!
Conclusion:
Overall an extremely solid offering from Executive Vapors and we at Vape Faction are extremely excited to watch them grow! As mentioned earlier if you want to try these juices you can pick them up at Glen Avon, Vap Vaporizers, or watch his Instagram: @executivevapors for new locations. The other option is to join the Vape Faction Forum and interact with him directly there. However, going through the effort of getting these in your hands will be worth it!
UPDATE:
Executive Vapors has opened an online shop at: https://squareup.com/market/oc-vapes. The prices are extremely reasonable especially if you buy in bulk or their amazing sample pack!